What Makes It Different
Focused water-based serum to treat the skin. Helps in eliminating freckles, black spots, reducing acne, scarring, flattening skin tones & as antioxidants that accelerate the skin's recovery.
Passed MOH, studied by experienced R & D experts & clinically tested
Ingredients
Aloe Vera, Niacinamide, Vitamin E, C & D3 and citrus extract & papaya extract, carotene beta and vitamin C.
This active ingredient is formulated along with the special formulations of all aloe Vera & micronutrients giving skin hydration as well as anti-germs.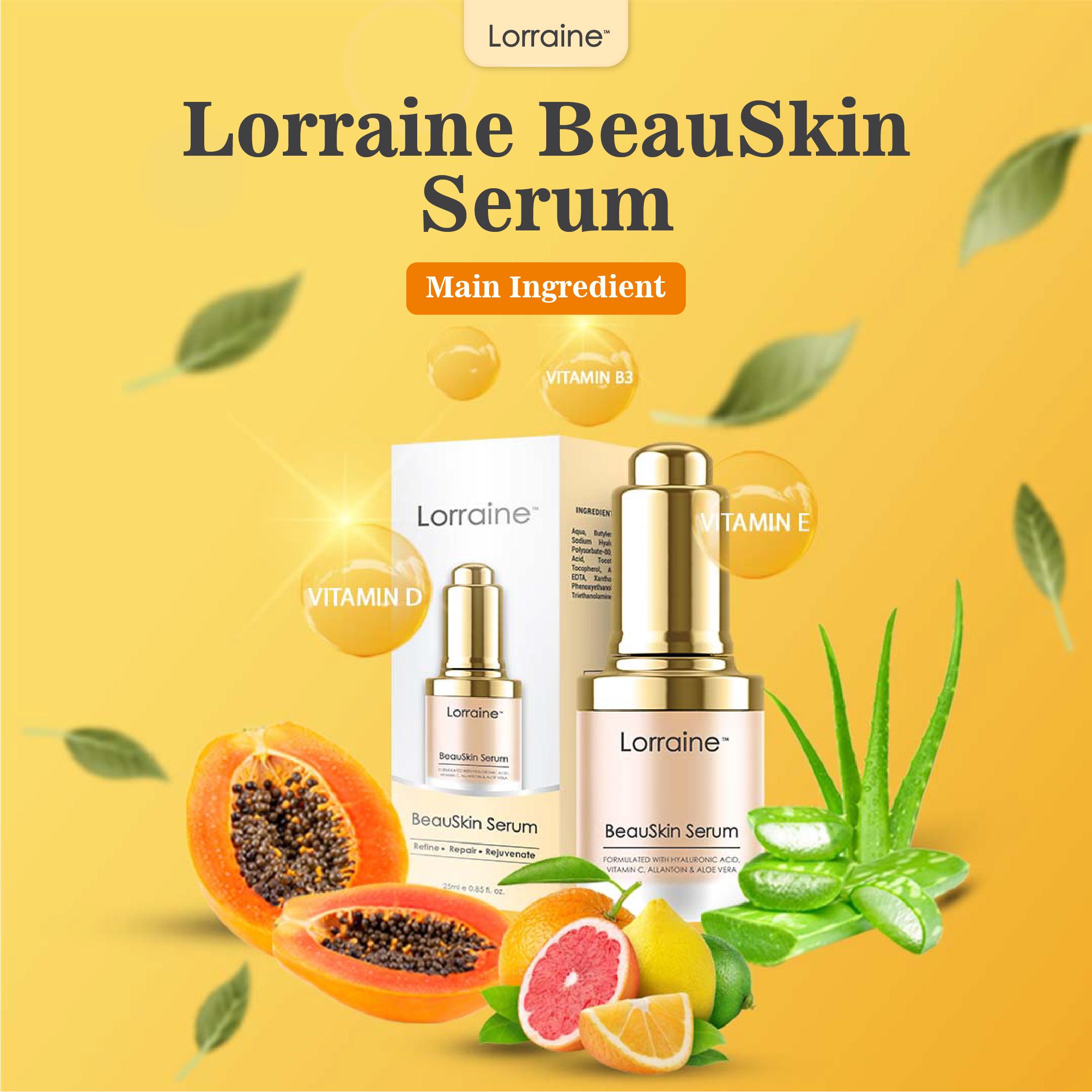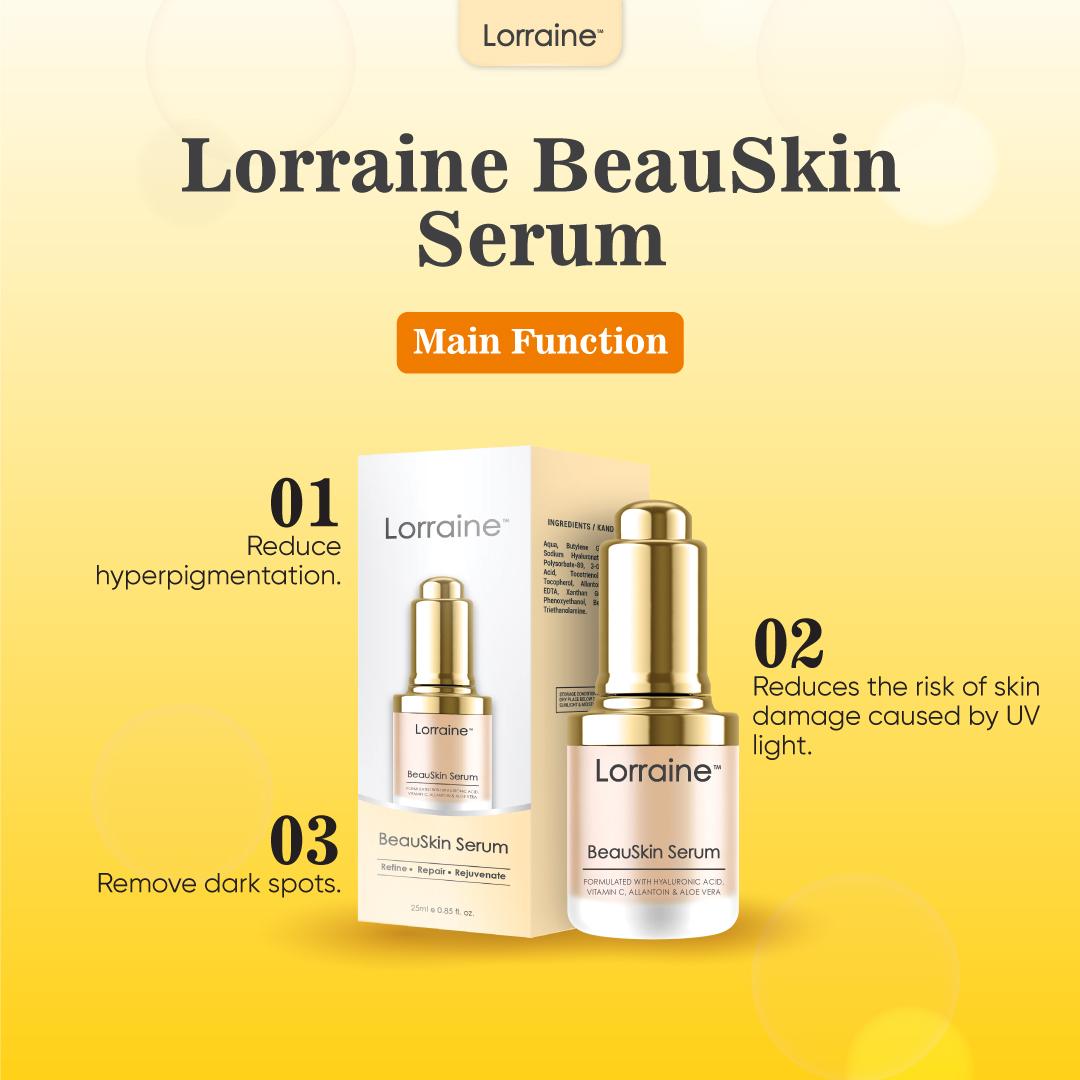 How To Use
Shake the bottle slowly.
Total 1-2 Lorraine Beauskin Serum on a clean palm.
Scrub slowly.
Apply on the face & neck portions flat.
Use it after washing the face & toner.
Lorraine Pro Tips
Enough with 1 to 2 serum drops only every time the use as the serum will not absorb perfectly into the skin if you are over-use.
You can also flatten serum by way of patching it slowly across the face from the middle to the hairline. This method is done so that the active ingredient in the serum is able to decompose & absorb into the skin.
Frequently Asked Questions (FAQ)
1. Who can use this product?

This serum can be utilized by both men & women (15 years old & above) for eliminating pigmentation and also to prevent it from forming. It helps to revitalize and rejuvenate your skin giving it a natural radiance. For those who want brighter, radiant and younger looking skin, this is the best serum for you!




2. What skin type are Lorraine BeauSkin best for?

Suitable for all skin types including dry & oily skin.
The natural and organic ingredients found in this serum will act according to your skin type.
However, for users who have overly sensitive and chronic skin problems, please consult with your doctor first before using Lorraine BeauSkin Serum.

3. Can Lorraine BeauSkin Serum be used on other parts of the body besides the face and neck?

Absolutely YES because it's for external use only.




4. When is the right time to use it?

It is advisable to use Lorraine BeauSkin Serum twice daily, morning & night after washing your face & applying toner.




5. How long does Lorraine BeauSkin Serum last?

It has a volume of 25 ml and approximately able to last for 1-2 months but depending on the method or how frequently you use it.



Jerawat baru terus kecut
Saja2 je letak serum lorraine dekat jerawat baru, esoknya terus kecut! Love sangat.
Kulit pun dah kurang berminyak
Jeragat saya makin pudar dari sebelum ni, kulit pun dah kurang berminyak lepas pakai lorraine serum ni...
Jeragat makin pudar & kulit makin cerah
Happynya! Selepas 2 minggu jeragat saya makin pudar & kulit makin cerah!
Sangat puas hati jeragat makin pudar
Sekarang ni dah seminggu guna Serum...
Sangat puas hati jeragat akak makin pudar!