What Makes It Different
Not greasy and easy to wash. This toner is also free from a mixture of alcohol and chemicals such as mercury.
Hydrating toner prevents dry skin by helping control oil production on the face. It also moisturizes, smooths & helps reduce skin inflammation and make the face look younger.
Ingredients
Formulated from natural & organic substances such as papaya extract, pachyrhizus erosus, cinnamon and ginger, niacinamide, glycerin and Biosaccharide Gum.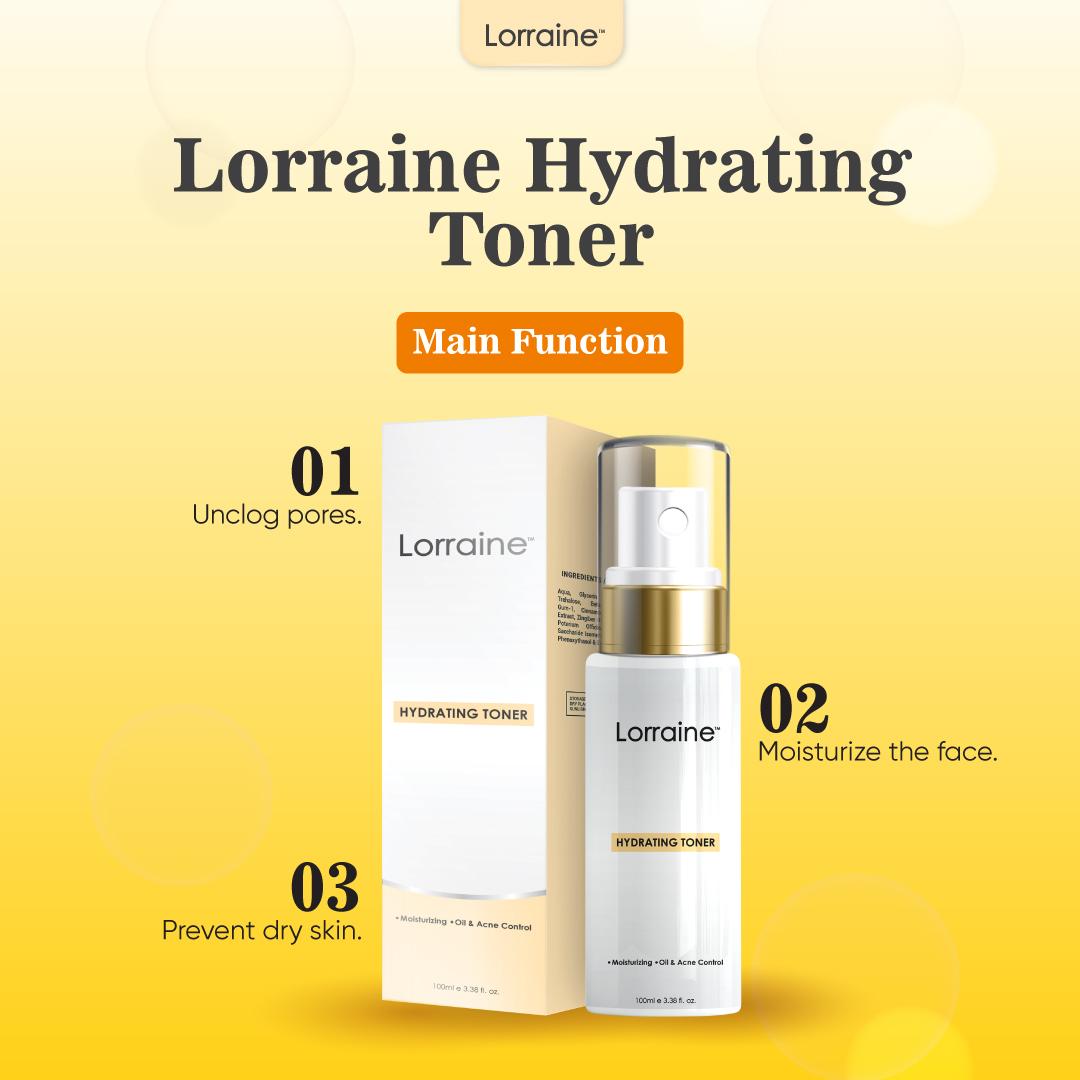 How To Use
Shake the bottle slowly.
Spray Lorraine Hydrating toner on cotton / hand.
Apply cotton / hand throughout the face & neck.
Use it after washing the face with appropriate or better face cleaner, Lorraine Cleansing Bar Soap.
Lorraine Pro Tips
For those who have oily skin & combinations, preferably use cotton when leveling the toner while creating a normal, dry & sensitive recommended use only hands.
Simply use twice a day (Morning & night) only because more toner usage will make the face more oily & risk of acne arise.
Frequently Asked Questions (FAQ)
1. Who can use this product?

Suitable for women, men & young teens (15 years old & above) who have oily or acne -prone skin. It is also best for those who want double cleanse to get rid of your make up & other heavy skin products such as sunscreen.




2. What skin type are Lorraine Hydrating Toner best for?

Suitable for people with oily or acne prone skin.
It's also suitable for sensitive skin as it contains glycerin which is one of the effective ingredients that calms irritant skin and maintains moisture to the skin.
However, for users who have overly sensitive and chronic skin problems, please consult with your doctor first before using Lorraine Hydrating Toner.

3. Can Lorraine Hydrating Toner be used on other parts of the body besides the face and neck?

Absolutely YES because it's for external use only.




4. When is the right time to use it?

It is advisable to use Lorraine Hydrating Toner twice daily, morning & night after washing your face.




5. How long does Lorraine Hydrating Toner last?

It has a volume of 100 ml and approximately able to last for 1-2 months but depending on the method or how frequently you use it.